Welcome to the Pre-Prep at QCPS. Our Pre-Prep learning journey encompasses Reception through to Form II.
During these essential years, we establish solid foundations and set routines to develop a lifelong love of learning. We embrace a growth mindset approach, encouraging girls to see learning as a continuous journey where facing challenges builds both independence and resilience.
We work closely with parents and carers, believing that learning should be a partnership between home and school. We foster good relationships and open forms of communication between teachers and families, including informal conversations at the end of the day, face to face meetings, notes in the school diary, or by telephone.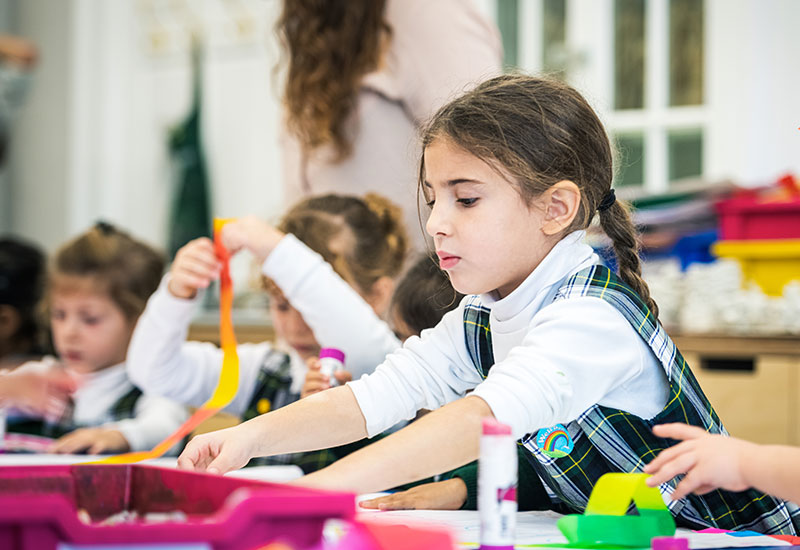 Our curriculum wholeheartedly embraces topic-based learning and encourages cross-curricular links. The girls enjoy learning in their inviting and stimulating classrooms, completing varied and enriching activities to support their learning. These may include using concrete objects or structured talk, completing practical activities and taking part in role-play activities. Clear differentiation and individual target-setting allow girls to make significant progress as they become more aware of their next steps and how to improve their work.

It is essential that our girls feel cared for, valued, and happy at school. We place a strong emphasis on creating positive friendships, developing self-confidence, and independence in the Pre-Prep. Our nurturing atmosphere, carefully balanced with high expectations of the girls both academically and socially, provides a platform from which girls achieve amazing results and are ready to move on to their Prep years.